Low Price on Highly Rated New York Times bestseller Rosie Revere, Engineer
** Note: No longer at a price we consider to be a deal -- below are some of the most popular ways to keep in touch so you don't miss future HOT deals like this one. **
Head over here where you can find the lowest price to date on the highly reviewed Rosie Revere, Engineer now down to $10.93 (reg. $18.99).
The beloved New York Times bestselling picture book about pursuing one's passion with persistence and learning to celebrate each failure on the road to achieving one's dreams.
Rosie Revere dreamed of becoming a great engineer. Where some people see rubbish, Rosie sees inspiration. Alone in her room at night, shy Rosie constructs great inventions from odds and ends. Hot dog dispensers, helium pants, python-repelling cheese hats: Rosie's gizmos would astound—if she ever let anyone see them.
Afraid of failure, she hides them away under her bed. Until a fateful visit from her great-great-aunt Rose (AKA Rosie the Riveter!), who shows her that the first flop isn't something to fear—it's something to celebrate. And you can only truly fail, if you quit.
Praise for Rosie Revere, Engineer:
"Comically detailed mixed-media illustrations that keep the mood light and emphasize Rosie's creativity at every turn."
—Publishers Weekly
"The detritus of Rosie's collections is fascinating, from broken dolls and stuffed animals to nails, tools, pencils, old lamps and possibly an erector set. And cheddar-cheese spray."
—Kirkus Reviews
"This celebration of creativity and perseverance is told through rhyming text, which gives momentum and steady pacing to a story, consistent with the celebration of its heroine, Rosie. She's an imaginative thinker who hides her light under a bushel (well, really, the bed) after being laughed at for one of her inventions."
—Booklist
Awards:
2013 Parents' Choice Award – GOLD
2014 Amelia Bloomer Project List
ReadBoston's Best Read Aloud Book
See it here: Rosie Revere, Engineer >>>
---
Best selling popular deals you may like...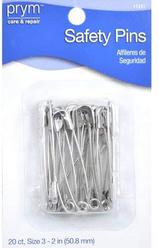 Prym Large 20 PC Safety Pins, Zinc - $1.00 (reg. $5.99)
See more information with interactive tools on Jungle.Deals >>>

See the most popular deals of the past week that are still available >>>
Details.
This post may contain affiliate links which support this site.
Read our disclosure policy.