Trix Popcorn Snack with Fruity Sweet Glaze, Snack Bag, 7 oz
** Note: No longer at a price we consider to be a deal -- below are some of the most popular ways to keep in touch so you don't miss future HOT deals like this one. **
Amazon Prime members can score a bargain on the Trix Popcorn Snack with Fruity Sweet Glaze, Snack Bag, 7 oz for $3.56. Get up to extra 15% off when you use the Subscribe & Save checkout method lowering the price to as low as $3.03 shipped!
Reviewers said:
"I didn't normally like Trix cereal but thought I would give this a try and was quite surprised at how good it actually tasted. It doesn't taste exactly like Trix. Definitely sweeter, but also having that popcorn crunch. Tastes like a sweeter and slightly fruity kettle corn. Didn't seem stale or anything like that, actually quite fresh for pre-bagged and extra sweetened popcorn. The sugar content is quite high so be aware before scarfing down a bag or two as it's easy enough to do."
"I wasn't expecting to like this, but it's really good! It tastes exactly like Trix cereal, but with the consistency of cracker jacks (maybe a little softer). If you let it, it melts in your mouth."
"These are so addictive. They taste exactly like the cereal, super tasty and sweet without being too sweet. I passed the bag over to my boyfriend so he could try some one night while watching TV and never got the bag back!"
Tired of the same old snacks? The new Trix popcorn snack with fruity sweet glaze is sure to spice up your snacking experience! Not only is it delightfully sweet, but it also packs a succulent punch of flavor that you won't soon forget.
This 7oz bag is filled to the brim with popcorn that's coated in a delightful fruity sweet glaze, making it the perfect collaboration of salty and sweet. It's perfect for spice up movie nights, packed lunches, or just to keep your energy up throughout the day! Being the perfect combination of crunchy, delicious, and healthy, Trix popcorn snack with fruity sweet glaze is an ideal snack for anyone looking to enhance their snacking experience.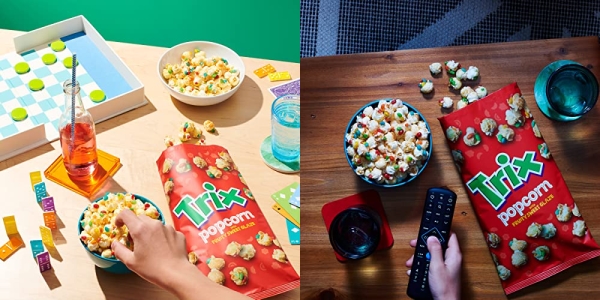 See it here: Trix Popcorn Snack with Fruity Sweet Glaze, Snack Bag, 7 oz >>>
---
Other popular deals you may like...
See all of the BEST Amazon Subscribe & Save Deals >>>
Details.
This post may contain affiliate links which support this site.
Read our disclosure policy.