Shark S3501 Steam Pocket Mop Hard Floor Cleaner, Purple
Just came on sale, awesome reviews and perfect for keeping the floors clean! Hurry over to Amazon.com where you can get a deal on the Shark S3501 Steam Pocket Mop Hard Floor Cleaner, Purple for $59.99 (reg. $89.99).
Reviewers said:
"Love it! Super easy to assemble, use, and store. I was busting my back using a swiffer on all of our laminate flooring and couldn't understand why the cleaning pad didn't look that dirty but my toddlers feet were still filthy from running around. After using this steam mop I found out why! This thing can really pick up A LOT of dirt that you didn't even know was there.
I just lay it on the floor and pour distilled water in to help with long term integrity of the product, plug it in, and within 30 seconds it's hot and ready to steam. Worth every penny!!"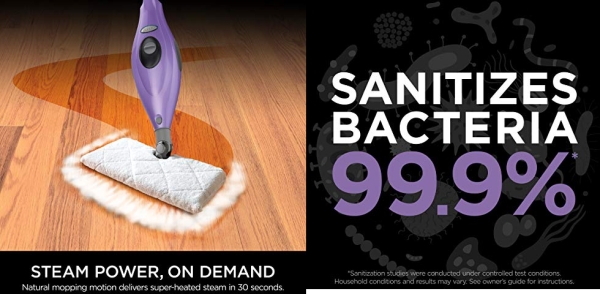 "A must buy! Very simple and easy to use. I am very particular about what chemicals go on my floors so I love the fact that this steamer just uses water to Clean and steam. I have a toddler so he can be a very messy eater to say the least .. with a messy or sticky spot on the floor, all I have to do is pump the handle a few times and hold it over the icky spot for a couple of seconds to let it loosen up and that is all!"
The Shark Steam Pocket Mop turns ordinary water into super-heated steam to remove everyday dirt and grime that other mops leave behind..Voltage: 120 volts. Wattage: 1200 watts
Powerful steam on demand – natural mopping motion delivers super-heated steam in just 30 seconds, and dries almost immediately
99.9% sanitization against germs and bacteria
2 washable microfiber pads lift and lock in dirt – no more messy mops and heavy buckets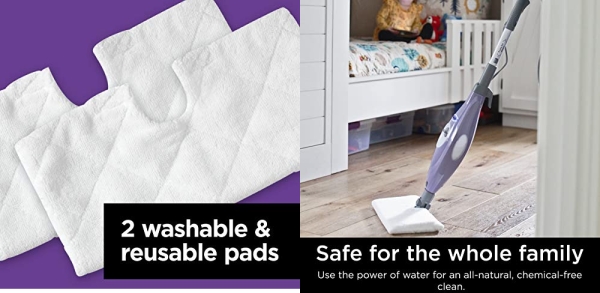 A soft-grip handle and comfortable design that make it easy to maneuver without physical strain
A quick-release cord – easily store and release the 18-foot power cord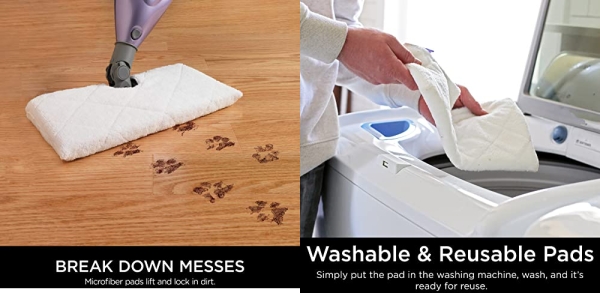 Safe cleaning on hard-floor surfaces – including hardwood floors
Includes: Steam Mop, (2) Washable Microfiber Pads, Filling Flask, Quick Release Swivel Cord Wrap, Rectangle Mop Head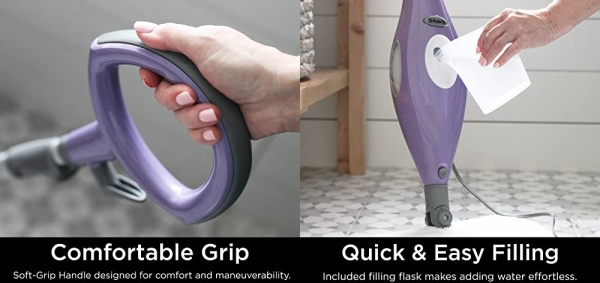 See it here: Shark S3501 Steam Pocket Mop Hard Floor Cleaner, Purple >>>
Other popular deals you may like...
See all of the BEST Amazon Subscribe & Save Deals >>>
Details.
This post may contain affiliate links which support this site.
Read our disclosure policy.