O-Cedar ProMist MAX Spray Mop, PMM with 3 Extra Refills, Red
Hurry on over to Amazon where you can score this O-Cedar ProMist MAX Spray Mop, PMM with 3 Extra Refills, Red priced at $31.98 (reg. $54.96).
Reviewers said:
"I love it! I can't find enough floors to mop around the house. It's my new toy. I can't live without it – I'm so happy!"
"I love this mop. I was looking for something that would be easy on my back. I have vinyl floors so I put warm water in a bottle and spray my floor cleaner on the floor from the spray bottle. Then I spray warm water and mop. What used to take 10 minutes to disinfect now takes much less time. I then go over with just spraying water and mopping. I flip over the pad, and it's great that you can use both sides and there are four pads to use. I do sections at a time – putting the pad on is just a bit cumbersome but not too bad."
"I love using this mop as an in-between clean. I wouldn't really trust to use it as my sole cleaner, but it's doing a great job as a quick and easy sweep through of my floors. It was easy to set up, and I don't see it breaking anytime soon."
Are you tired of mopping the same floor over and over, yet never quite achieving the clean you dream of? The O-Cedar ProMist MAX Spray Mop makes cleaning a breeze. It uses thousands of microfibers to trap in dirt, dust and pet hair, absorb the smallest particles and provide streak-free and scratch-free cleaning. You'll even find scrubbing zones on the mop pad to make tackling sticky and dried-on messes easier.
The ProMist MAX Spray Mop makes using liquids on your floors easier too. It comes with a refillable bottle that clips to the mop handle and sprays a mist of liquid onto the floor with just a gentle squeeze. The bottle holds up to 20oz of liquid and can be easily re-filled to get hours of use from this amazing mop. Clean your floor more effectively and enjoy a deeper clean with the affordable O-Cedar ProMist MAX Spray Mop.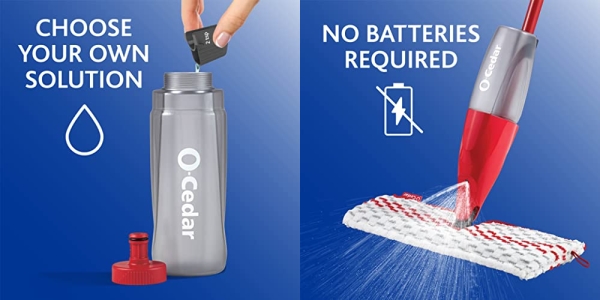 See it here: O-Cedar ProMist MAX Spray Mop, PMM with 3 Extra Refills, Red >>>
---
More deals from O-Cedar...
---
You may also want to look at...
Details.
This post may contain affiliate links which support this site.
Read our disclosure policy.