Neutrogena Beach Defense Sunscreen Spray SPF 30 Water-Resistant Sunscreen Body Spray SPF 30, 8.5 oz
** Note: No longer at a price we consider to be a deal -- below are some of the most popular ways to keep in touch so you don't miss future HOT deals like this one. **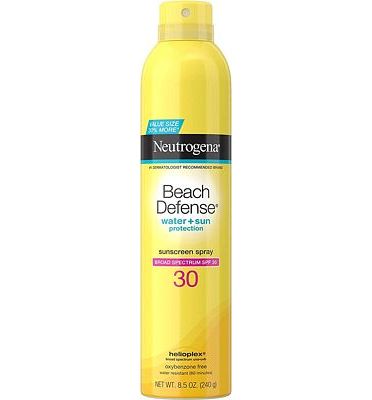 Amazon.com is offering up a deal on Neutrogena Beach Defense Sunscreen Spray SPF 30 Water-Resistant Sunscreen Body Spray SPF 30, 8.5 oz on sale for $11.59.
Reviewers said:
"Hands down THE BEST sunscreen I've ever bought! I have sensitive skin and this spray doesn't affect it one bit. Great protection when applied as directed. This has become my go-to sunscreen product."
"Headed right to the beach! This sunscreen is easy to apply and does its job. I had no sunburn after a week in the sun."
"I love the convenience of this spray-on sunscreen. It's great when I'm in a hurry and it goes on so easily. Also, it smells great, unlike some other spray-ons. I was a bit leery about using a spray-on, but it protects my fair skin well. I've never gotten burned when I have it on. That said, it can feel a bit sticky after it dries, but that might be because I use too much. I think for the convenience it is worth the price."
Are you looking for superior protection from sunburn and sun damage during your outdoor activities? Look no further than Neutrogena Beach Defense Sunscreen Spray SPF 30! This is the number one dermatologist-recommended suncare in a lightweight, fast-drying, easy-to-apply spray formula. The Beach Defense Spray is free of oxybenzone and is PABA-free so you can trust it to protect your skin. And with its water-resistant protection up to 80 minutes while swimming or sweating, you can be sure that your skin is always protected.
The ultralight, non-greasy texture of Neutrogena Beach Defense makes reapplying after bath or sweat a breeze. You won't be left with a heavy, sweaty feeling or that dreaded puffiness after wearing. And, it's great for all skin types – including sensitive – so everybody can join in on the reliable sun protection. With Neutrogena Beach Defense, you can trust in the reliable protection of a reliable name.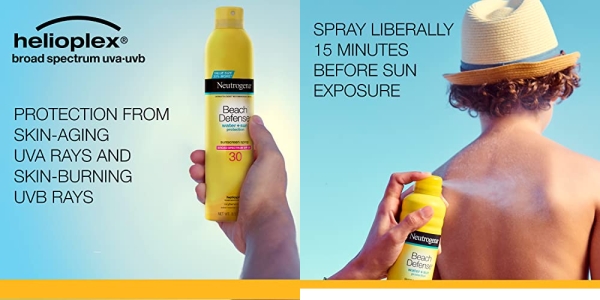 See it here: Neutrogena Beach Defense Sunscreen Spray SPF 30 Water-Resistant Sunscreen Body Spray SPF 30, 8.5 oz >>>
---
You may also want to look at...
Details.
This post may contain affiliate links which support this site.
Read our disclosure policy.