Melissa & Doug Blue's Clues & You! Wooden Lacing Beads – 25 Beads, 4 Cords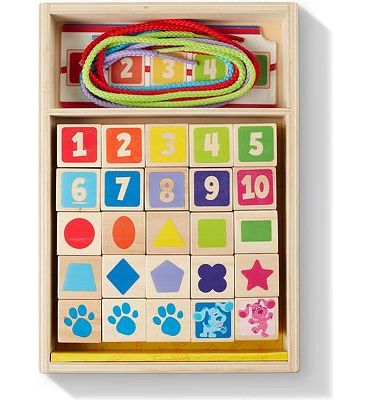 Head over here where you can find the lowest price to date on the Melissa & Doug Blue's Clues & You! Wooden Lacing Beads – 25 Beads, 4 Cords now down to $8.84 (reg. $22.99).
Reviewers said:
"Great for learning or just playing with – I love that this incorporates colors, images, shapes and numbers into both a fine motor and educational toy. The strings are good enough quality to slide cubes through and the cubes themselves are smooth with no rough edges. The printing on the cubes are not stickers, which we're hopeful will last longer that way. I also like that it comes with a few flash cards for the kids to try and copy for recognition exercises. For the current price of $22.99, it's a little pricey but an overall enjoyable toy with good value."
"I really like these for my toddler. They are wooden and really good quality. We string them on the strings it comes with or we stack them with numbers or pictures. I like that it works his fine motor skills to string the blocks onto the string and you can count with them, etc."
"Melissa and Doug toys are a favorite of mine because of their durability among other reasons. This set of beads and cords are very durable. My three boys have all received Occupational Therapy at some point or still are. The OTs have similar toys like this set to help with coordination, pincer grip, hand strength, and sequencing. The Blues Clues is a cute theme and makes the beads a little more fun than just plain wood. There are four cords, so you can do sorting or more than one kid can play at once."
Do you have a preschooler who loves Blue's Clues & You!? If so, they'll be ecstatic to get their hands on Melissa & Doug's Blue's Clues & You! Wooden Lacing Beads set. The set is designed to provide hours of screen-free play to children aged between 4 and 7, making it an ideal gift. The set comes with 25 solid-wood beads, featuring beloved Blue's Clues characters, and 4 strong and durable laces. Young children will be delighted by recognizing all the different characters, and their fine motor skills and hand-eye coordination will develop as they put together the set.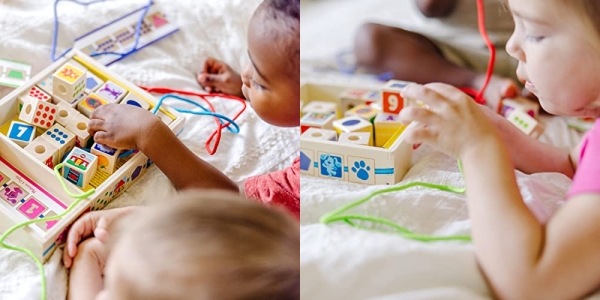 Not only will these lacing beads stimulate their imagination, but it can also help them hone other skills too. They will be challenged as they attempt to solve the problems of how to lace the beads in the most efficient way. By the end, they can be proud of having created something beautiful using the skills and creativity – skills which will be beneficial for them for the rest of their life. Get this set for your 4-7-year-old, and you'll see them learning, having fun, and exploring their world.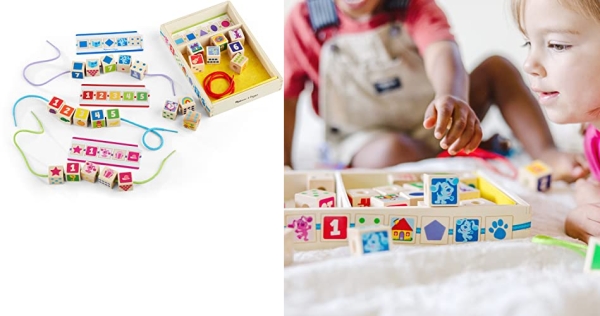 See it here: Melissa & Doug Blue's Clues & You! Wooden Lacing Beads – 25 Beads, 4 Cords >>>
---
You may also want to look at...
Details.
This post may contain affiliate links which support this site.
Read our disclosure policy.