Maruchan Ramen Lime Chili Shrimp Flavor, 3.0 Oz, Pack of 24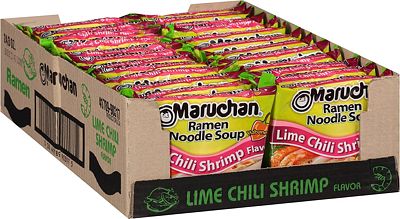 Amazon is offering the lowest price to date on the Maruchan Ramen Lime Chili Shrimp Flavor, 3.0 Oz, Pack of 24 on sale for $5.76. Get up to extra 5% off when you use the Subscribe & Save checkout method lowering the price to as low as $5.47 or 23¢/ramen shipped!
Compare prices on product variations at Jungle.Deals >>>

Reviewers said:
"It is a good go-to snack in a hurry. I wouldn't recommend eating it every day due to the high sodium, but when you only have a few minutes this is my choice over candy."
"Ramen noodles instant package soup is not Buddha Jumps Over the Wall, but contains shark's fin, abalone, Japanese flower mushroom, sea cucumber, dried scallops, chicken, ham, pork, and ginseng, but it is a close second."
"These noodles are all the same and I always toss the flavoring packets that they come with. They lend an easy addition to any vegetable and/or meat dinner. Create your own spices, and you will make a healthier meal. Try them my way, and you are going to be in for a very big surprise. By the way, don't overcook the noodles!"
If you love ramen as much as I do, then you'll be delighted to learn about this incredible Maruchan Ramen Lime Chili Shrimp Flavor. This pack includes 24 packages of ramen each containing 3 oz. units, so your kitchen will always be stocked with tasty ramen. Featuring a refreshing lime chili shrimp flavor, this ramen is the perfect addition to any lunch or dinner. Plus, it's incredibly quick and easy to prepare – ready in just 3 minutes!

Maruchan's Ramen Lime Chili Shrimp flavor is made with carefully selected spices and other premium quality ingredients. This ramen is a classic way to quickly and deliciously satisfy your cravings without much fuss. So don't settle for processed snacks and don't bother with complicated cooking – get Maruchan Ramen Lime Chili Shrimp Flavor right away and enjoy one of the best ramen flavors around!
See it here: Maruchan Ramen Lime Chili Shrimp Flavor, 3.0 Oz, Pack of 24 >>>
---
You may also want to look at...
Details.
This post may contain affiliate links which support this site.
Read our disclosure policy.