Kitchen Mama Electric Can Opener: Open Your Cans with A Simple Push of Button – No Sharp Edge, Food-Safe and Battery Operated Handheld Can Opener
** Note: No longer at a price we consider to be a deal -- below are some of the most popular ways to keep in touch so you don't miss future HOT deals like this one. **
Don't miss your chance to grab the lowest ever price to date on the Kitchen Mama Electric Can Opener on sale for $29.99 (reg. $35.00).
Compare prices on product variations at Jungle.Deals >>>

Open cans fast and hassle-free with Kitchen Mama's Electric Can Opener. This innovative kitchen product makes tedious meal-prep tasks a breeze. With Kitchen Mama, you no longer have to fight hard-to-open lids or get your hands anywhere near sharp can edges. Simply press the button and watch Kitchen Mama effortlessly work its magic.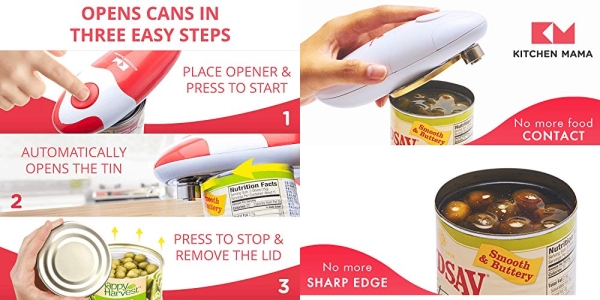 The automatic operation delivers a smooth and no-contact experience for both regular and pop-top cans. Stop and start in any position – it's that easy to use. The power and precision of Kitchen Mama's design let you quickly open cans of all sizes without leaving a mess behind. Kitchen Mama's clever design is also perfect for those with limited hand strength or physical ailments, meaning everyone can enjoy the convenience of this amazing product.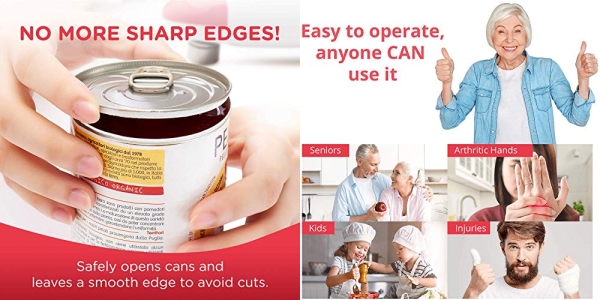 Make kitchen prep quick and mess-free with Kitchen Mama's Electric Can Opener. Enjoy effortless kitchen tasks and have everything ready in half the time it usually takes. Get the job done without hassles and keep your hands safe – shop Kitchen Mama today!
See it here: Kitchen Mama Electric Can Opener >>>
---
You may also want to look at...
Details.
This post may contain affiliate links which support this site.
Read our disclosure policy.