Holikme Dryer Vent Cleaner Kit Vacuum Hose Attachment Brush, Lint Remover, Dryer Vent Vacuum Hose, Blue
** Note: No longer at a price we consider to be a deal -- below are some of the most popular ways to keep in touch so you don't miss future HOT deals like this one. **
Amazon is offering the lowest price to date on the Holikme Dryer Vent Cleaner Kit Vacuum Hose Attachment Brush, Lint Remover, Dryer Vent Vacuum Hose, Blue for $9.95 (reg. $14.95). Click to redeem the instant $1.00 off coupon located below the product price. Final price will be ONLY $8.95 shipped!
Reviewers said:
"I am so glad I bought this; it works great! I've been using it for my dryer and then I also tried it out on the bottom track of our sliding glass door, which had old dirt, dust, and a dead bug. Then I just went around the house and slid it underneath furniture and in crevices, and it worked perfectly for all of these reasons!"
"I was shocked at how much lint was stuck in the bottom of my fryer! It is a must!"
"So my husband told me he cleaned out the dryer vent, and me using this hose proved he was indeed lying or lazy – or probably a little bit of both. I filled half of the vacuum container with lint sucked up with this little thing. The only complaint I have is sometimes the lint will get stuck and you have to pull it out, but that's a small inconvenience in my opinion."
Are you tired of having lint clogging up your dryer vent? The Holikme Dryer Vent Cleaner Kit offers a simple solution to this frustrating problem. Not only does this product save you time from the dangerous task of manually cleaning the lint trap, it also vacuums the vent clean in no time. All you need to do is use the Vacuum Adapter to connect the Hose Attachment to your vacuum, place it in the vent, and let your vacuum do the rest.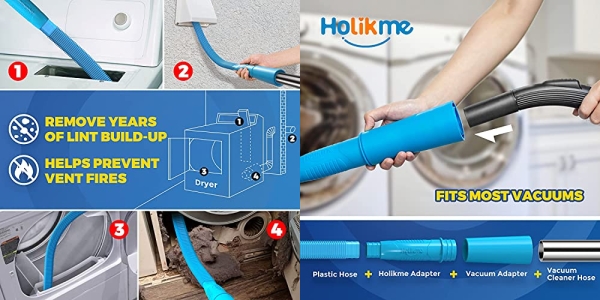 The 27.5ft hose is long enough to clean the whole dryer vent, allowing you to easily reach dryer vents that you may struggle to access when cleaning manually. This incredible kit let you cut cleaning time down significantly and make it easy to keep your dryer vent free from dust and lint. With the Holikme Dryer Vent Cleaner Kit, you can ensure your home is as clean and safe as it can be.
See it here: Holikme Dryer Vent Cleaner Kit Vacuum Hose Attachment Brush, Lint Remover, Dryer Vent Vacuum Hose, Blue >>>
---
You may also want to look at...
Details.
This post may contain affiliate links which support this site.
Read our disclosure policy.