Fresh Step Clumping Cat Litter, Advanced, Simply Unscented, Extra Large, 37 Pounds total (2 Pack of 18.5lb Boxes)
** Note: No longer at a price we consider to be a deal -- below are some of the most popular ways to keep in touch so you don't miss future HOT deals like this one. **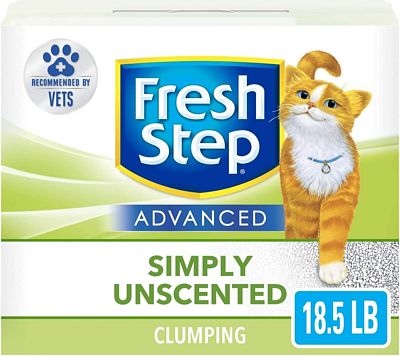 Don't miss your chance to grab the lowest ever price to date on the Fresh Step Clumping Cat Litter, Advanced, Simply Unscented, Extra Large, 37 Pounds total (2 Pack of 18.5lb Boxes) on sale for $19.99. Get up to extra 5% off when you use the Subscribe & Save checkout method lowering the price to as low as $18.99 or $9.50/box shipped!
Reviewers said:
"I have spent a lot of time cleaning litter pans for my five cats, and it's worth it to me to spend a bit more and get the best kitty litter on the market. The cats prefer the unscented kind, and this brand clumps better than all the others."
"I have bought this product several times and it is the best kitty litter I have ever used! It is very easy to scoop so you can discard what you need to, it smells great and you can't even tell there's a cat in the house! I highly recommend it and the price is great! Definitely worth it!"
"My wife and I bought this litter to try out for our 9-month-old kitten. This litter does a great job of concealing odors and it is really easy to clean too. The best thing about this is that it has reduced litter tracking a lot. With our previous litter, we used to find a lot of it scattered around the house, but it has significantly reduced once we made the switch to this one! The only downside is the packaging, it would be great if the packaging was better."
If you're looking for a cat litter that makes scooping the box easier and keeps your home smelling fresh, Fresh Step Clumping Cat Litter is the perfect choice for your feline friend. This litter combines powerful odor control with ClumpLock technology to create tight clumps which make it easier to scoop. It's neutalizes urince odors so that your house doesn't smell like a litter box.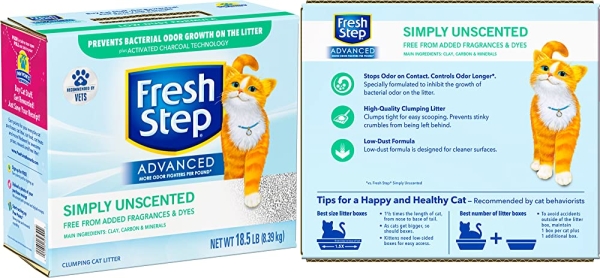 The extra large size of this litter is ideal for multi-cat households, so everyone can clean their box in half the time, leaving more time for love and cuddles. It's designed to work for cats of all sizes, so you can be sure that no matter what size your cat is, they'll be comfortable and content in their litter box. So if you want a litter that's both easy to use and long-lasting, Fresh Step is here for your cats.
See it here: Fresh Step Clumping Cat Litter, Advanced, Simply Unscented, Extra Large, 37 Pounds total (2 Pack of 18.5lb Boxes) >>>
---
Other popular deals you may like...
See all of the BEST Amazon Subscribe & Save Deals >>>
Details.
This post may contain affiliate links which support this site.
Read our disclosure policy.