Lowest price to date on Farkle!
For a limited time ONLY you can get a super discount on the Farkle priced at $5.58 (reg. $9.75).
*You could also take advantage of the buy 2 get 50% off one deal with the final price of $8.37 for 2 orders shipped at checkout! That's as low as $4.19/order!*

Introducing Farkle – the thrilling game that combines strategy and luck to keep you on the edge of your seat! Perfect for a night of family fun or a get-together with friends, Farkle is a classic dice-rolling, risk-taking game that will have you hooked from the very start.
With its own dice cup, score pads and 6 dice included, Farkle comes ready to play right out of the box. Simply take a risk and keep rolling to build your score, or play it safe and avoid losing your hard-earned points in a Farkle. No matter what approach you take, it's a fight to the finish in this fabulously fun game!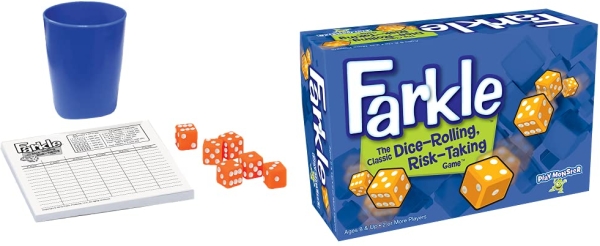 But Farkle isn't just about luck – it also requires strategy and quick thinking to come out on top. Challenge your friends or family to see who can rack up the highest score and become the ultimate Farkle fanatic. So kick back, relax, and let the good times roll with Farkle, available now on Amazon. It's the perfect addition to any game night and sure to be a hit with everyone. Get your hands on Farkle today and experience the excitement for yourself!
See it here: Farkle >>>
---
You may also want to look at...
Details.
This post may contain affiliate links which support this site.
Read our disclosure policy.