CETAPHIL Night Cream, Redness Relieving Night Moisturizer for Face, 1.7 fl oz, For Dry, Redness-Prone Skin
** Note: No longer at a price we consider to be a deal -- below are some of the most popular ways to keep in touch so you don't miss future HOT deals like this one. **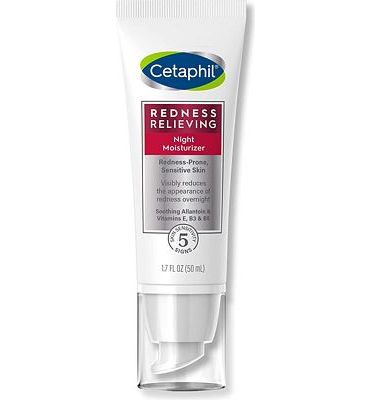 Hurry over to Amazon.com where you can get a deal on the CETAPHIL Night Cream, Redness Relieving Night Moisturizer for Face, 1.7 fl oz, For Dry, Redness-Prone Skin now down to $13.75 (reg. $15.77).
Reviewers said:
"I had some redness and overnight it was gone. My skin is really sensitive so I highly recommend this product, as well as the wash and the SPF. I just started using the night-time moisturiser."
"I recently developed rosacea and have been struggling to control the redness. Using this product with the other Cetaphil Redness Relief products is the only thing that has worked for me. All of the other products had no effect. This had a noticeable difference overnight, with a good night's sleep, shower, use the Cetaphil Redness Face Wash, then the Redness Relief Nighttime Moisturiser and the Cetaphil Redness SPF in the morning after moisturising your skin and you will notice dramatic differences."
"I've been on Tretinoin for 3 months now and my skin has become very sensitive, so I bought Cetaphil Redness Relieving Night Moisturiser in the hope it would calm the redness as promised. It has definitely worked for me! No more redness! Bonus points for not breaking me out. I'm so glad I gave it a try."
If you're looking for a night moisturizer that can help alleviate redness and bring relief to dry and sensitive skin, CETAPHIL Night Cream is the perfect option. With its travel-friendly size and dermatologist-developed formula, you can trust that your skin will thank you.
This night cream is specifically designed to treat redness, while providing enough moisture that your skin won't feel deprived. Enriched with emollient-rich compounds, it's able to replace lost moisture and even out the skin, leaving it smooth and hydrated. And with the lightweight, fast-absorbing formula, you don't have to worry about any greasy residue on the skin.
The best part? Being under 3.4 fl oz, the product is suitable to take with you when travelling. So no more having to purchase more of the same cream while on vacation. With CETAPHIL Night Cream, redness-prone skin can now keep feeling hydrated and comfortable regardless of local weather conditions or air temperatures.
See it here: CETAPHIL Night Cream, Redness Relieving Night Moisturizer for Face, 1.7 fl oz, For Dry, Redness-Prone Skin >>>
---
Other popular deals you may like...
See all of the BEST Amazon Subscribe & Save Deals >>>
Details.
This post may contain affiliate links which support this site.
Read our disclosure policy.