Catan The Board Game, Lowest Price!
** Note: No longer at a price we consider to be a deal -- below are some of the most popular ways to keep in touch so you don't miss future HOT deals like this one. **
Hurry over to Amazon.com where you can get a deal on the Catan The Board Game priced at $43.97 (reg. $54.99).
*You could also take advantage of the buy 2 get 50% off one deal with the final price of $65.96 for 2 orders shipped at checkout! That's as low as $32.98/order!*

Experience a fun and engaging board game with Catan: The Board Game! Gather your friends and family together to explore the unknown, where you all have to work together to create a new world. Play in teams of three to four players and enjoy 60 minutes of captivating game-play where you establish settlements, build roads, and trade resources.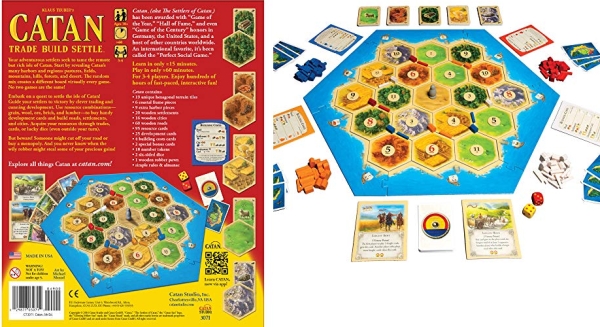 The Catan board game includes all the necessary supplies for a fun game night. In the box, you'll find 19 hexagonal terrain tiles, 6 sea frame pieces, 9 extra harbor pieces, 20 wooden settlement pieces, 16 wooden city pieces, 4 wooden robber pieces, 60 resource cards, 25 development cards, 4 building cost cards, 2 special bonus cards, 18 number tokens and 2 six-sided dice.

In this game of strategy and chance, players must fight to settle the island of Catan. The goal? Acquire the most victory points by building settlements and roads. Each turn, you roll the dice to decide which resources you will acquire. Will you build with wood, stone, wheat or brick? With smart trades and cunning strategies, you will be able to work your way up to glory and victory. Game on!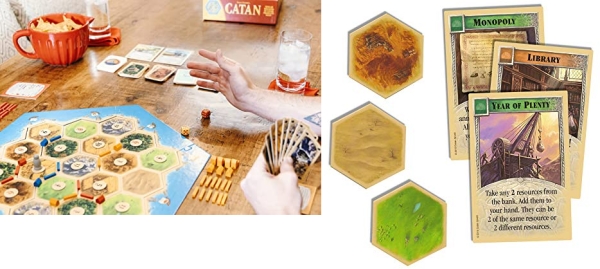 See it here: Catan The Board Game >>>
---
You may also want to look at...
Details.
This post may contain affiliate links which support this site.
Read our disclosure policy.